History of the Place
In the 1600s the original Mustaniemi estate formed. It included land and fishing waters with the border marked on the terrain. It was not permitted to cross the borders. Those were turbulent times in Finland.
On 30th August, 1721 the treaty of Nystad (Novgorod) was signed and gave the long-awaited peace, and in Pertunmaa it marked the end of uncertainty. The Russian border was only a few kilometres to the east of the farm. Mustaniemi Farm received exemption from taxes for eight years.
In 1735 Mustaniemi and Ahvenniemi housed military conscription offices of Pertunmaa. A local conscript served in the Hämeenlinna infantry regiment, the Sysmä company.
In the 1750s peasant Tuomas Tuomaanpoika Mustonen tried to catch his brother Erkki off the farm as a slave and seize the entire estate.
In the 1760s parliament heard the case, Tuomas was fined and Erkki got a half of Mustaniemi farm, now called Jussilä. There were four other log cabins in the hinterland.
Since 1896 the farm has been owned by the same family, now in the fourth generation. In the 1950s the estate was divided between sisters, giving origin to the neighbouring Niemelä Farm.
In 1988 the farm owners became engaged in rural tourism. The range of activities grew every year and the level of service rose.
In 2008 we made a leap into the future when we founded Lahdelman Lomat Oy together with the son.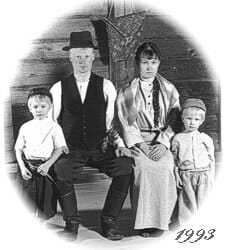 Lahdelma family